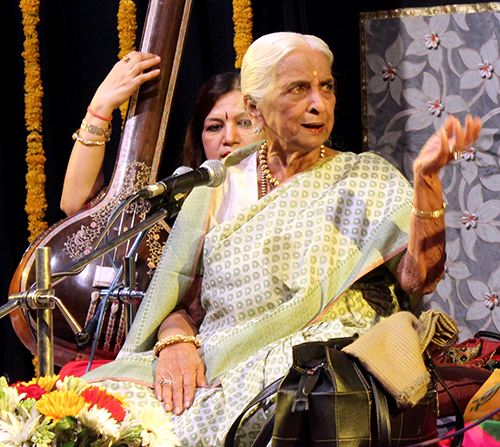 In an interview, the Hindustani vocalist Girija Devi recalled how some performers of khayāl—the dominant North Indian classical tradition—looked down on ṭhumrī, which was considered a light-classical tradition.
"The new khayāl establishment appeared to create a climate of opinion in which the ṭhumrī and its allied genres were regarded as either easy to master, or otherwise inferior."
"This bothered me immensely, so I decided to match the competence of khayāl vocalists on their home turf, and challenge them to match me on mine. I worked very hard on my khayāl, and performed it more widely and consistently than any other Benares vocalist in recent times. I make it a point to perform a khayal at every concert, and it consumes almost half of the duration of my recital. After that, I perform a few semi-classical pieces."
"In the khayāl we get to the root of the raga's melodic personality, and elaborate upon it according to the established presentation format. In the ṭhumrī we get into the emotional depth of the poetry, and express it as musically as we can. I was brought up in a family with a very deep involvement with literature, particularly poetry, so I handle poetry in ṭhumrī with sensitivity."
Quoted in "Girija Devi: The queen of Benares" by Deepak S. Raja (Sruti 250 [July 2005] pp. 41–50).
Today would have been Girija Devi's 90th birthday! Above, performing in 2015; below, performing the ṭhumrī Babul mora in 2014.