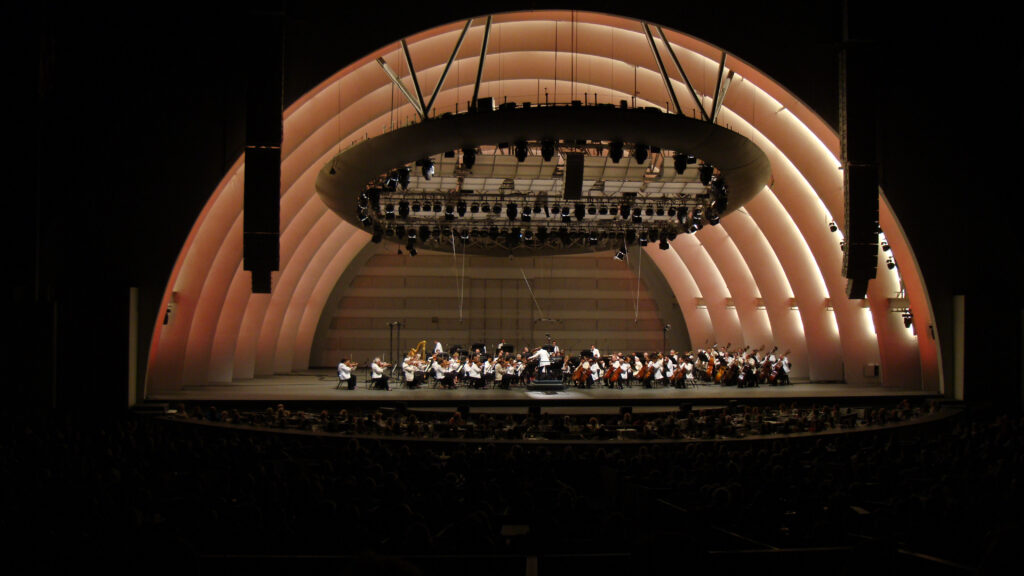 The Hollywood Bowl is one of the largest natural amphitheaters in the world, with seating for 18,000 people. The first concert season was held in 1922 and since that time, some of the greatest performers have appeared in this venue, including such diverse artists as Jascha Heifetz, Otto Klemperer, Leonard Bernstein, Judy Garland, The Jimi Hendrix Experience, The Beatles, The Doors, The Who, Ben Harper, and Halsey.
The Hollywood Bowl Orchestra was founded by Leopold Stokowski in 1945 and gained immediate recognition for its distinctive sound and exciting programs. In the 1950's the orchestra was conducted by Carmen Dragon, who introduced the popular evening concerts. In 1991, John Mauceri took over the orchestra and greatly enhanced its proud tradition. The repertoire of the Hollywood Bowl Orchestra is quite diverse, ranging from Mozart to Motown. Each season, the orchestra can be heard performing Broadway favorites, film music, pop, jazz, classical music, and premieres by living composers. The specialty of the Hollywood Bowl Orchestra, however, has been the live performance of film music that previously had been heard only on original soundtracks. Beginning in the early 1990s, the Hollywood Bowl (and Los Angeles Philharmonic) have restored and performed a number of neglected or lost film scores. Some of this repertoire has been performed live by the Hollywood Bowl Orchestra including the theme to Gone with the wind, the Dream ballet sequence from Oklahoma!, the Born in a trunk sequence from A star is born (1954), and many others.
Learn more in Conductors and composers of popular orchestral music: A biographical and discographical sourcebook (2013). Find it in RILM Music Encyclopedias.
Below is a medley of music from well-known movies performed by the Hollywood Bowl Orchestra.