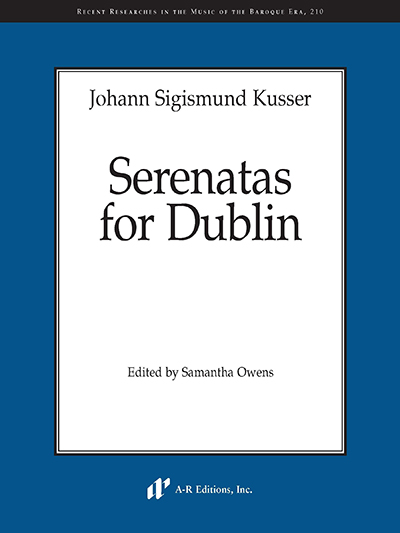 Johann Sigismund Kusser (or, as he was known in England and Ireland, John Sigismond Cousser) was a Hungarian-born musician who, after a varied and successful career in the German-speaking lands of the Holy Roman Empire, settled in Ireland in July 1707.
In Dublin Kusser composed and directed the performances of at least 21 festive serenatas that marked important state occasions in Dublin between 1709 and his death in late 1727. Presented before the elite of local society in semistaged productions featuring costumes, stage machinery, and dancing, these works functioned as something of an operatic substitute in the city's cultural life.
In 2020 A-R Editions issued Kusser: Serenatas for Dublin (RILM Abstracts of Music Literature 2020-1963), a critical edition comprising the three serenatas for which music remains extant. Two of these can be proven definitively to be of Kusser's own composition, and the third, due to its musical style, overall structure, and subject matter, is almost certainly his creation as well. These works provide remarkably rare musical evidence of a key component of the artistic offerings of Dublin's viceregal court during the early decades of the eighteenth century.
Below, "Come, lovely peace, the conqu'ror calls" from An idylle on the peace, one of the works included in the volume.