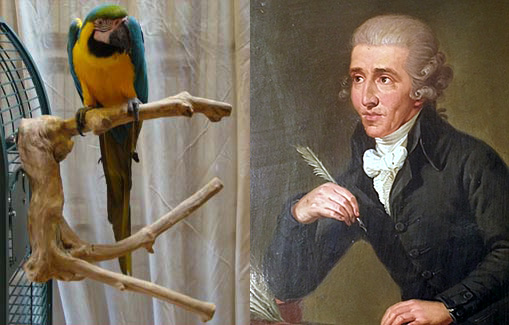 The Inventur und Schätzung der Joseph Haydnischen Kunstsachen—the catalogue of the auction of Haydn's personal collection following his death in 1809—is preserved in the Musiksammlung of the Österreichische Nationalbibliothek.
One of the items listed therein was a living parrot. During the composer's later years, the parrot enjoyed warm days in its cage in Haydn's Vienna courtyard, mocking the sparrows on the neighbors' roofs. It could whistle a full octave, sing the opening of the national anthem, and call out "Come, Papa Haydn, to the beautiful Paperi!"
This according to "Haydn als Sammler" by Otto Erich Deutsch, an article included in Zum Haydn-Jahr 1959 (Österreichische Musikzeitschrift XIV/5–6 [May–June 1959] pp. 188–194; RILM Abstracts of Music Literature, 1959-648).
Today is Haydn's 290th birthday! Below, perhaps a descendant.
Related article: Mozart's starling