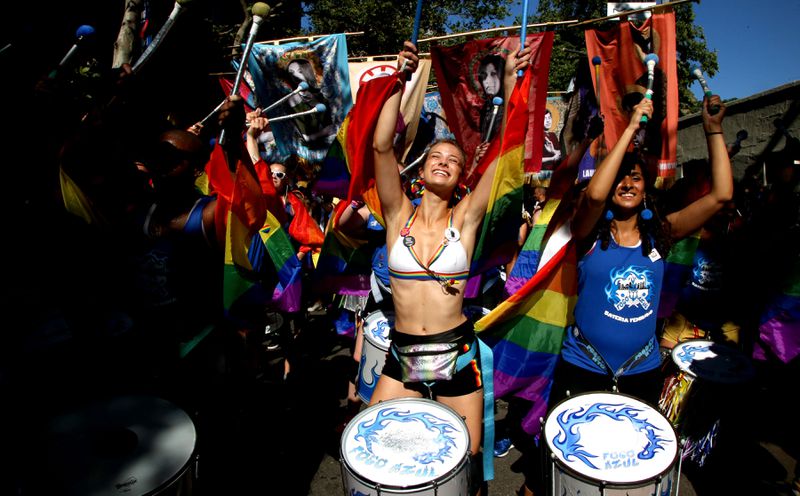 The word queer originally meant strange, or odd, and was used as a derogatory term for non-heterosexuals. Beginning in the 1980s, scholars and activists began using the term to refer to sexual or gender identity minorities, such as gay, lesbian, bisexual, transgender, etc., as a way to combat social stigma.
Since the emergence of queer theory in the 1980s, a growing number of music scholars have begun to focus on the connections among gender identity, sexual orientation, and music/sound. Critical of biologically-based orientations, and emphasizing social gender roles and sexual orientations, queer theory has inspired music scholars to re-examine musicians, music, sound, narrative, and aesthetics through the lens of sex and gender. Below, we share some literature of queer musicology collected by RILM.
– Mu Qian, Editor, RILM
__________________________
Moon, Steven. "Queer theory, ethno/musicology, and the disorientation of the field", Current musicology 106 (2020) 9–33. [RILM Abstracts of Music Literature, 2020-13066]
Abstract: Examines the development of ethno/musicologies' (queer) theoretical borrowings from anthropology, sociology, and literary/cultural studies in order to historicize the contemporary queer moment both fields are experiencing, and demonstrates the ways in which it might disorient the field. It traces the histories of this queering trend by beginning with early conceptualizations of the ethno/musicological projects, scientism, and quantitative methods. This is in relation to the anthropological method of ethnocartography in order to understand the historical difficulties in creating a queer qualitative field, as opposed to those based in hermeneutics. The first section places the problematics of this enumeration in dialogue with the ethno/musicologies' tendencies towards nationalizing and globalizing narratives that often run contrary to a queer project. The second section steps back in time to understand how music studies, broadly, entered the queer conversation through early feminist literature in ethnomusicology and historical musicology, as well as literary/cultural studies and anthropology.
Maus, Fred Everett. "Classical concert music and queer listening", Transposition: Musique et sciences sociales 3 (mai 2013) 11p. [RILM Abstracts of Music Literature with Full Text, 2013-31866]
Abstract: The norms of the classical music concert, familiar from the 20th century onward in European and United States contexts, favor an apparently uniform practice of attentive, silent listening, the audience seated in rows with a uniform visual focus. However, within this appearance of quiet conformity, listeners have diverse, intense experiences. The discontinuity between experience and demeanor reflects powerful cultural oppositions between inner and outer, public and private. The discontinuity is particularly stark in light of the erotic qualities of music, as described in brilliant work by Susan McClary (Feminine endings, 1991; RILM 1991-2755) and Suzanne Cusick (On a lesbian relationship with music, 1994; RILM 1994-2517). My essay returns to their work, expanding their accounts to consider a broader range of sexual subjectivities, including bottom subjectivity as described by Trevor Hoppe and femme subjectivity as described by Ann Cvetkovich.
Hankins, Sarah. "Ethnographic positionality and psychoanalysis: A queer look at sex and race in fieldwork", Queering the field: Sounding out ethnomusicology, ed. by Gregory F. Barz and William Cheng (New York: Oxford University Press, 2020) 353–363. [RILM Abstracts of Music Literature, 2020-170]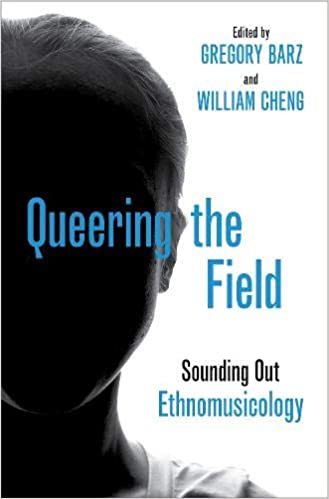 Abstract: Explores the queer dynamics of heterosexual interactions, thinking through issues of race by way of gender. The author further complicates matters by weaving ethnographic discourses of positionally together with psychoanalytic theories of sexuality and the subject. She seeks to bring psychoanalysis—a process she has relied on in her private life to address painful experiences—into some kind of consonance with the academic discourses that have long been touchstones of her professional life. By investigating the multivalent, confusing, and sometimes contradictory dimensions of her own fieldwork, she hopes to encourage further conversations about how sexuality and race intersect in known and unknown ways for other queer ethnographers, in other cross-cultural contexts. Her case study of the Rasta Club in south Tel Aviv is a vivid reflection on queer identity within the context of heterosexual interactions, especially violent ones.
Künzig, Bernd. "New queer music: Homosexualität und Neue Musik—Eine Ästhetische Spurensuche", Neue Zeitschrift für Musik 178/1 (2017) 12–16. [RILM Abstracts of Music Literature with Full Text, 2017-40456]
Abstract: The degree to which sexual orientation affects artistic production has been discussed in various contexts—especially in the anglophone world. However, with respect to composition it remains an open question. This is true of homosexuality, too, which could be openly discussed after the sexual revolution of the 1968 movement. Even today, if one pursues the inquiry, one comes across many not so obvious connections between music and sexuality.
Sullivan, James. "The queer context and composition of Samuel Barber's Despite and still", Twentieth- and twenty-first-century song cycles: Analytical pathways toward performance, ed. by Gordon Sly and Michael Callahan (New York: Routledge, 2021) 79–96. [RILM Abstracts of Music Literature, 2021-264]
Abstract: The author's approach to Barber's Despite and still (1968) foregrounds Barber's autobiographical connection to the cycle, particularly his sexuality and his relationship with Gian Carlo Menotti. With regard to the texts that Barber chose, which include poems by Robert Graves and Theodore Roethke and an excerpt from James Joyce's Ulysses, the author shows how each text touches upon a particular point of tension in Barber's relationship with Menotti. Musically, he then demonstrates how Barber's settings dramatize that tension through the manipulation of perceived meter, especially via close imitation. The essay thus integrates musical analysis with poetic structure and biography.
Jones, Matthew J. "'Something inside so strong': The Flirtations and the queer politics of a cappella", Journal of popular music studies 28/2 (June 2016) 142–185. [RILM Abstracts of Music Literature, 2016-19760]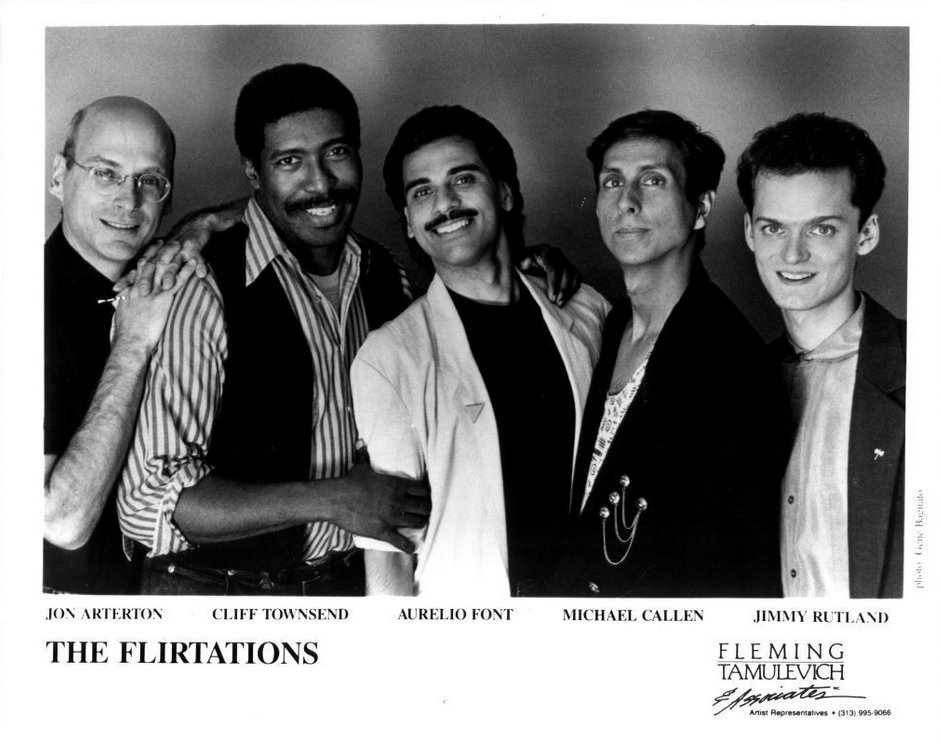 Abstract: Initially formed in 1987, The Flirtations billed themselves as "the world's most famous, openly-gay, all-male, politically active, multicultural, a cappella singing doo-wop group". Over the course of the next decade, The Flirts—as they were affectionately known—recorded three albums, crisscrossed the globe to perform at gay pride events and AIDS rallies, sang in small theaters and concert venues, and even appeared in a Hollywood film (Jonathan Demme's Philadelphia released in 1993). Committed advocates of LGBT rights, feminism, multiculturalism, and AIDS activism, The Flirtations used the nostalgic sounds of close-harmony a cappella singing to deliver political messages, enlighten listeners, and entertain audiences. Through fluctuations in membership, personality conflicts, and the AIDS-related deaths of two founding members, The Flirtations kept singing and left behind a unique repository of queer music at the end of the 20th century. Drawing on previously unavailable archival materials, new interviews with surviving members of the group, and close readings of select musical examples, I situate The Flirtations within the history of U.S. close-harmony singing and examine the queer politics of a cappella in their music.
Doyle, JD. "Queer music radio: Entertainment, education, and activism", Journal of popular music studies 18/2 (2006) 215–219. [RILM Abstracts of Music Literature, 2006-5846]
Abstract: Queer music heritage, hosted by the author on KPFT-FM, Houston, Texas, seeks to educate and entertain audiences in the name of LGBT activism. The radio program is designed as a way to share music from a variety of genres—including blues, country, and disco—with gay, lesbian, bisexual, transgendered, and questioning lyrical themes. Music and interviews are organized into themed shows that address issues such as the concept of "gay music", expressing sexual identity, and the shifting cultural place of sexual identity in history.