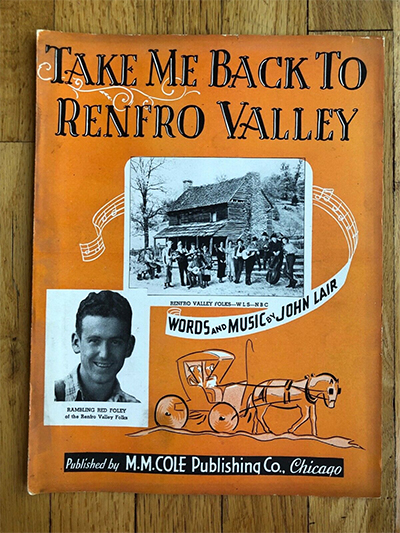 First broadcast in 1937, Renfro Valley Barn Dance was the first American barn dance radio program to be performed and recorded in an actual barn as opposed to a radio studio.
The program's producer, John Lair, propagated his single-minded reconstruction of an idealized past and his own personal image of authenticity in American folk music. Lair constructed his aesthetic within Appalachian stereotypes and definitions of genre in folk and country music, and his interactions with performers, radio regulators, and advertisers illuminate his careful negotiation of the hillbilly icon and of signifiers of truth, sincerity, and authenticity in early country music.
This according to "Encoding authenticity in radio music: Renfro Valley Barn Dance and Kentucky folk music" by Helen Gubbins (Ethnomusicology Ireland V [July 2017] 15–30; RILM Abstracts of Music Literature 2017-24515).
Above, sheet music for a song that Lair wrote for the show; below, a compilation of radio clips and period photos, featuring Lair himself.
Related article: Happy 90th to the Grand Ole Opry!