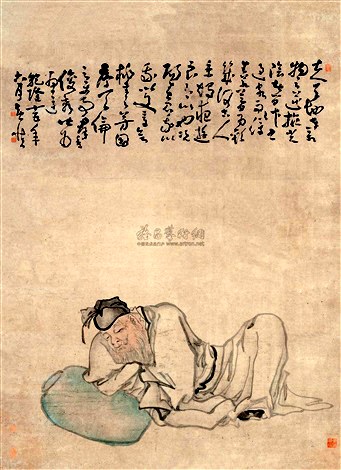 Tablatures of ancient Chinese vocal music usually provide very little concrete information on rhythm, and few ancient Chinese writings on rhythms and time values in musical performance survive. One fortunate exception is the perceptive scholarly work of the 11th-century Buddhist monk Master Yihai, who was the only known person from early China ever to explain musical rhythm using a concrete example from guqin music.
Yihai analyzed a famous musical setting of Su Dongpo's poem Zui weng yin (醉翁吟, Drunken dotard refrain). The earliest surviving musical notation of Zui weng yin dates from several centuries later; whether a tablature of 1539 actually preserves the music discussed by Yihai cannot be determined with full certainty, but there is indirect evidence to support an early date for the music.
This according to "The Drunken dotard refrain" by Marnix Wells (CHIME: Journal of the European Foundation for Chinese Music Research XX [2016] pp. 85–105). Above, an 18th-century manuscript; below, a 21st-century performance.
#dotard