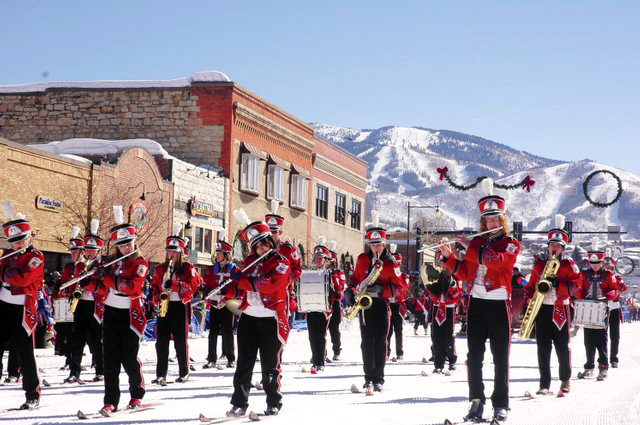 Since 1914 a Winter Carnival has been held in February in the picturesque resort town of Steamboat Springs, Colorado, to promote skiing and celebrate the season. Events include ski races, ski jumping, dogsled pulls, skijoring, and fireworks.
The main attraction, though, is the performance of the Steamboat Springs High School Band in the parade held on the last day of the carnival.
Every year since 1935, members of the band have donned red wool uniforms, fixed plastic mouthpieces to their instruments and lubricated them with no-freeze valve oil, attached shortened skis to their boots, and skied in formation as they played.
This according to "The Steamboat Springs High School Ski Band 1935–2005" by Daniel S. Isbell (Journal of historical research in music education XXVIII/1 [October 2006] pp. 21–37). Below, the band in performance.