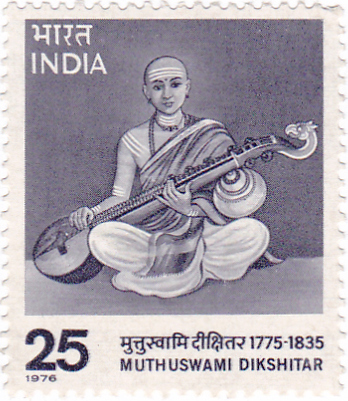 A longstanding tradition among Karṇāṭak composers involves weaving hidden meanings into their song texts; generally known as mudrās, such terms may serve to identify the composer through a pseudonym, or they may indicate aspects of the music itself.
The highly revered composer Muttusvāmi Dīkṣitar typically included his signature pseudonym Guruguha somewhere in his song texts. He also often worked in the name of the rāga in which the composition is set, sometimes ingeniously encasing the reference in two adjacent words that, taken together, reveal the rāga mudrā.
This according to Rāga mudrās in Dīkshitar kritis by K. Omanakutty (Thiruvananthapuram: University of Kerala, 2012; RILM Abstracts of Music Literature; RILM Abstracts of Music Literature 2010-50861).
Above, a depiction of Dīkṣitar on a stamp issued by India Post; below, Gayathri Girish sings his Sārasa daḷa nayana, one of the works discussed in the book.