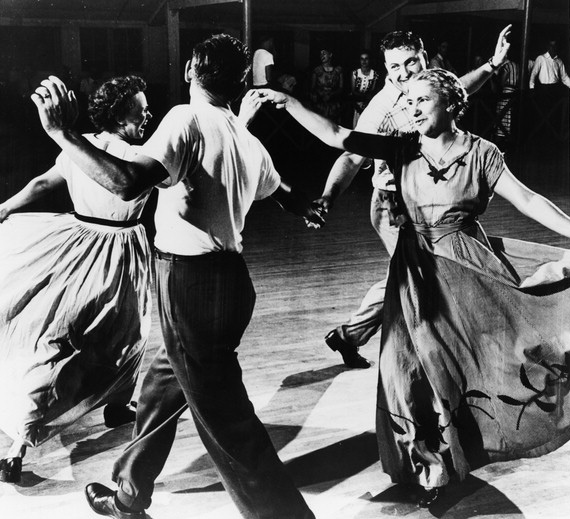 In 1988 the U.S. Congress convened four panels of witnesses for and against proposed legislation that would designate square dance as the National American Folk Dance.
Leaders of the nationwide network of recreational clubs that perform what is generally referred to as modem Western square dance campaigned for the bill's passage, presenting numerous petitions with thousands of signatures gathered from their membership; opponents included recognized African American, Hispanic American, and Native American dance performers, as well as professional folklorists and one square dance caller not affiliated with the sponsoring organizations.
Proponents of the legislation cited the historical depth of square dance in the U.S.—"This form of dance alone can claim a development from the earliest days of our nation, through expansion of our population across the land"—and cited the genre's association with "old-fashioned values" rooted in the "melting-pot of the dances which our ancestors brought with them when they settled in this nation."
Witnesses for the opposition noted the absence of people of color from this picture, and generally argued against the whole idea of designating a national dance—"I can't see how any one dance could be singled out as our National Folk Dance when we are a pluralistic society, a land of geographic, racial, cultural, and religious differences," testified a representative of the Makah people. "I believe choosing one, any one, would give birth to feelings of resentment and animosity."
Although the bill was defeated, similar debates continue to this day.
This according to "Reflections on the hearing to designate the square dance as the American folk dance of the United States: Cultural politics and an American vernacular dance form" by Colin Quigley (Yearbook for traditional music XXXIII [2001] pp. 145–57). Below, Bob Dalsemer, the one square dance caller who testified for the opposition.