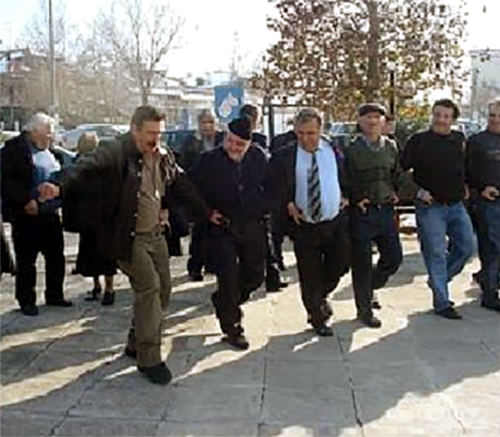 During New Year's celebrations, transplanted Northern Thracian farmers perform fertility rites to coax a bountiful harvest from the earth.
Three forms of the important wedding dance type συγκαθιστό (syngathisto)—which is seldom seen outside a matrimonial context—are performed during New Year's rituals; two of them, ντιβιτζήδικoς (divitzīdikos, "camel driver's dance") and κατσιβέλικος (katsivelikos, "gypsy's dance"), employ phallic objects and involve improvisation. The three forms differ in style, kinemics, and morphokinemics.
This according to "Structure and style of an implement dance in Neo Monastiri, central Greece" by Rena Loutzakī, an essay included in The 16th symposium of the ICTM Study Group on Ethnochoreology (Studia musicologica Academiae Scientiarum Hungaricae XXXIII/1–4 [1991], pp. 439–452; RILM Abstracts of Music Literature 1991-3233).
Below, a divitzīdikos from Thessalonikī.