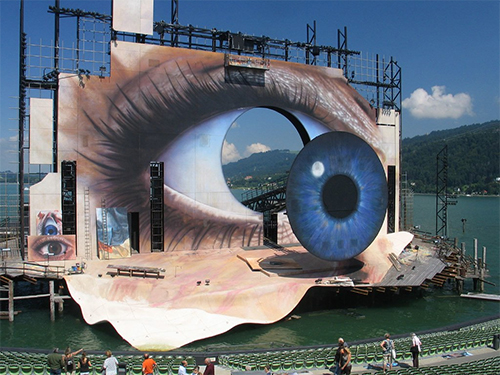 The 2009 James Bond film Quantum of solace marks a change in the conception of the opera visit in film, which typically shows opera in an idealizing light. Quantum's opera visit, which may be a first in an action film, signifies detachment and encapsulates the subjective isolation of the protagonist.
The scene's distance comes from the floating operatic venue (the Bregenz Festival), the voyeuristic production (techno-opera), the frenetic montage in much of the sequence, and the work itself, Tosca, which has parallels with the filmic story. Detachment is further promoted by a dry sound environment, a rearranged temporal scheme, and opera music that approaches underscore in its distance from operatic idioms.
Comprised of slow harmonic rhythm and considerable repetition, the two musical excerpts—the Te Deum that ends act 1 and the instrumental music after Scarpia's murder in act 2—are noticeably static and impose a groundedness that separates the scene from the film's other set pieces, which are extremely fast in music, sound, and image. The disposition of the operatic music points up the cinematic bent of Puccini's score and its remarkable ability to accommodate the needs of the film.
Although Quantum's opera visit is cynical toward opera culture, it captures the post-millennial malaise of the long-running Bond franchise and forms the high point of a film that disappointed critics and fans alike. But while opera may redeem the film's larger narrative, the protagonist remains aloof from opera's transforming qualities as he shuns engagement with the spectacle and the resonant music on the soundtrack.
Bond's detachment is embodied in the symbol of the set's iconic big eye, which not only reverses opera's scopic dynamic by gazing at the audience more than the audience gazes at the stage, but also represents mediated looking at opera in general, as in the Metropolitan Opera's HD cinecasts. While an operatics of detachment may seem like a contradiction, Quantum of solace persuades the viewer that it can be a vibrant reimagining of the special filmic ritual that is the opera visit.
This according to "The operatics of detachment: Tosca in the James Bond film Quantum of solace" by Marcia J. Citron (19th-century music XXXIV/3 [spring 2011] pp. 316–40).
Today is the 120th anniversary of Tosca's premiere!
Below, the scene in question.
Above, Floating Tosca Stage, Bregenz by John Abel is licensed under CC BY-NC-ND 2.0.