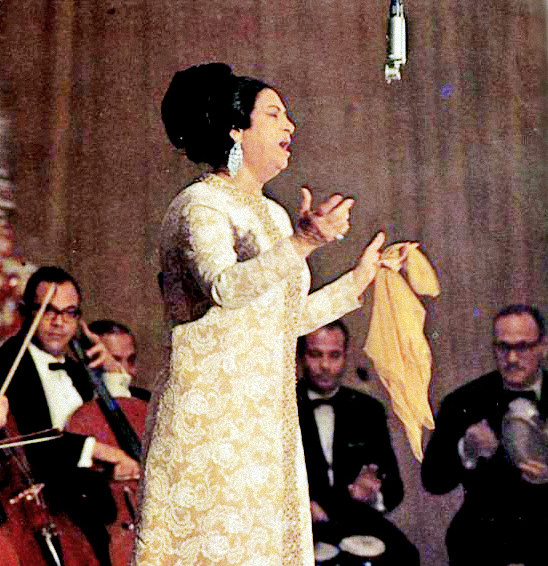 The virtuoso Egyptian singer Umm Kulṯūm (أم كلثوم) has been acclaimed as representing the voices of the people throughout the Arab world.
Following a long historical tradition of well-known, respectable female singers, Umm Kulṯūm's repertoire revolved around Arabic poems with historic themes and colloquial Egyptian Arabic songs. Performed during a time of rejection of all things colonial in favor of all things Egyptian, her songs, both textually and melodically, reflected this emphasis.
The role of listeners is crucial in constructing the identity of her voice and their usage of live and recorded performances for their own purposes. Songs from Umm Kulṯūm's repertory illustrate how social identity may be embedded in music using specific musical cues understood by the performer and her audience.
This according to "Voices of the people: Umm Kulthūm" by Virginia Danielson, an essay included in Women's voices across musical worlds (Boston: Northeastern University, 2004, pp. 147–165).
Today is Umm Kulṯūm's 110th birthday! Below, Baeed anak (Away from you) at the Olympia Théâtre in Paris, November 1967.