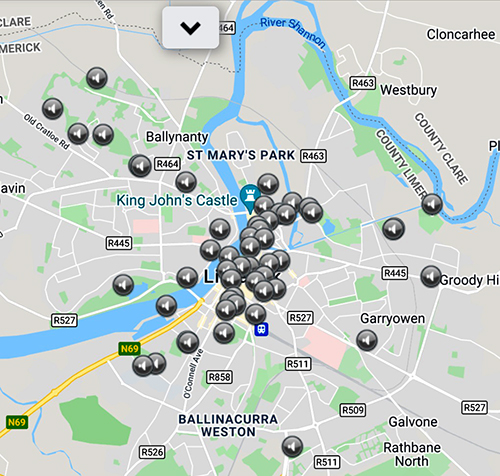 LimerickSoundscapes is an urban soundscapes project based in the small, multicultural, and post-industrial city of Limerick, Ireland, which is currently undergoing a process of urban regeneration following decades of challenges (high unemployment rates, rapid demographic shifts brought about by global migration, social disenfranchisement in marginalized neighborhoods, gangland criminality, and considerable stigmatization by the national media).
Facilitated by an interdisciplinary team involving ethnomusicologists, urban sociologists, and information technology specialists, the project combines ethnographic approaches from urban ethnomusicology with mapping practices from soundscape studies, through an evocation of critical citizenship to generate a soundscapes model that has the individual as a networked, social being and creative critical citizen at its core.
LimerickSoundscapes invites participants from a wide range of backgrounds, sourced through pre-existing routes and pathways—including clubs, charities, educational organizations, and societies—to engage in basic sound recording training on small, handheld devices. These sonic flaneurs or citizen collectors make short recordings of the sounds of their city, which are shared on an interactive website.
For the ethnomusicologists on the research team two tensions emerge. The first is around the research model, which makes collectors critical collaborators; this has implications for the open, creative, and participatory process by having an underpinning social activist agenda. The second relates to stepping outside the bounds of musicking and how that changes the more traditional role of the ethnomusicologist.
This according to "Sonic mapping and critical citizenship: Reflections on LimerickSoundscapes" by Aileen Dillane and Tony Langlois, an essay included in Transforming ethnomusicology. II: Political, social & ecological issues (New York: Oxford University Press, 2021, 96–114; RILM Abstracts of Music Literature 2021-3523).
Below, music in a Limerick pub.