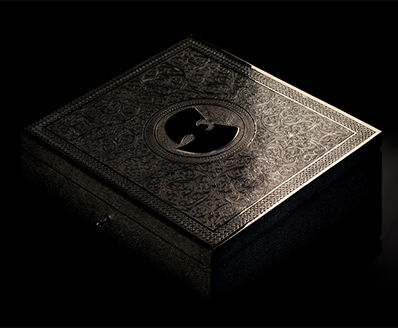 In 2007 the innovative young Wu-Tang Clan producer Cilvaringz took an incendiary idea to his mentor RZA. They felt that the impact of digitization threatened the sustainability of the record industry and independent artists, while shifting the perception of music from treasured works of art to disposable consumer products.
Together they conceived a statement that would unleash a torrent of global debate–a sole copy of an album in physical form, encased in gleaming silver and sold through an auction house for millions as a work of contemporary art.
The execution of this plan raised a number of questions: Would selling Once upon a time in Shaolin for millions be the ultimate betrayal of Wu-Tang's fans? And could anyone ever justify the selling of the album to the infamous Martin Shkreli? Opinions were sharply divided over whether this was high art or hucksterism. Was it a subversive act of protest, an act of cultural vandalism, an obscene symbol of greed, or a profound mirror for our time?
The album's journey from inception to disruption proved to be an extraordinary adventure that veered between outlandish caper and urgent cultural analysis, a story that twists and turns through mayhem and mischief while asking questions about our relationship with art, music, technology, and ultimately ourselves.
This according to Once upon a time in Shaolin: The untold story of Wu-Tang Clan's million dollar secret album, the devaluation of music, and America's new public enemy no. 1 by Cyrus Bozorgmehr (New York: Flatiron Books, 2017).
Above and below, the album in question.